Our client is a Swedish company, the Swedish human culture continues to flow through the veins of our 38,000 employees in more than 90 countries.  It has a strong family vibe with a warm respect for each individual and we strive for strong diversity. We also invest heavily in our customers, in the environment, … but first and foremost in our own people. In this way, we provide a stimulating environment in which you can develop your competencies on a daily basis. In addition, our family-friendly working atmosphere gives you the flexibility to find an optimal work life balance.
Would you like to get to know us? Hope to see you soon!
Trade compliance lead EMEA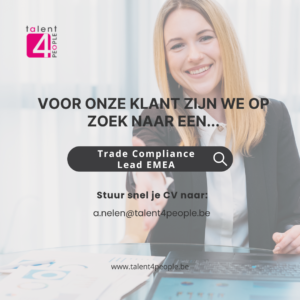 Jobdescription
The Compressor Technique Business area of  operates in an environment that is characterized by an ever-increasing complexity in its business processes and regulatory framework. In order to improve the governance of our trade compliance activities and to maximize the efficiency of our trade compliance activities, we are now searching for a CT business area trade compliance lead for the EMEA region.
This position oversees the Trade Compliance responsibilities for the EMEA region of the CT business area of Atlas Copco.  The position will interact with the Global Trade Compliance team of the company, based in Europe, and liaise with position counterparts in other regions of the world.  The position will ensure the company adheres to trade compliance laws and regulations, and in coordination with global trade compliance policies.
This position will be an exciting opportunity for an individual who is energetic, a self-starter and can communicate effectively with colleagues and upper management and deliver documented results. He or she will coordinate with various company departments, including purchasing/sourcing, engineering, and involved customer centers and product companies.
The duties of the regional Trade Compliance lead include:
Successfully implement and enforce Group compliance policies, standards, initiatives and procedures within the Compressor Technique Business Area related to but not restricted to:

Export and import management including classification processes, product licensing requirements and creation of export and import declarations and documentation
Trade preference management and support
Sanctioned party screening

Oversee and implement Import/Export compliance activities and ensure full compliance with Import/Export operational procedures and government regulations
Ensure compliance manual and related implementing procedures are maintained and modified as necessary
Manage relationships with all customs brokers and freight forwarders.  Monitor performance of brokers and forwarders through reviews including KPI's and compliance audits.
Determine whether imports/exports into/from the EMEA region qualify for any applicable Free Trade Agreements, Special Trade Provisions/Claims or other duty savings opportunities
Register for and manage special tariff and trade programs as determined and complete internal assessments for continued participation
Develop and provide training to relevant departments to maintain updated awareness of import/export compliance requirements and changes
Perform continuous cost saving reviews and make recommendations for all areas of the organization
Perform internal trade compliance audits to assess business risk and implement process improvements and report findings to leadership
Manage all service provider contracts and processes as they relate to Import/Export trade compliance
What we expect of you?
Experience requirements
Extensive working knowledge and experience applying international customs and export
control laws and regulations.
Familiar with HTS and dual use as well as denied party screening.
Demonstrated ability to focus on project work and efficiently bringing projects to completion.
Proven experience of working in a global organization.
Education
A completed Bachelors/Master degree or similar in a relevant field (international business and trade, logistics, etc.) or equivalent work experience.
Knowledge
Strong written and verbal communication skills
Experience/knowledge of AEO requirements
Experience with SAP preferred
Hands-on knowledge and interest in PC applications, MS-office (Excel, Powerpoint, etc.)
Personality requirements
You are structured with attention to details and you have strong analytical skills
You are a flexible team player and a motivator with leadership skills
You are self-driven with a proven ability to work on multiple tasks and must possess the ability to make sound judgment with confidence
You are result driven. That means that you put in the effort, the willingness and the ambition to achieve results and reach objectives, accepting accountability
You are digitally minded. You constantly seek for more efficient and automated ways of executing your tasks, taking advantage of all applicable and available technology
You have a customer oriented and service minded attitude
You demonstrate a positive and collaborative attitude, open to change and firmly believe there is always a better way
You have a strong interest in a global context
Diverse by nature and inclusive by choice
Bright ideas come from all of us. The more unique perspectives we embrace, the more innovative we are. Together we build a culture where difference is valued and we share a deep sense of purpose and belonging.
If you are triggered by this vacancy and would like to join our client's team, please send your motivation letter and CV to: a.nelen@talent4people.be or the link below: